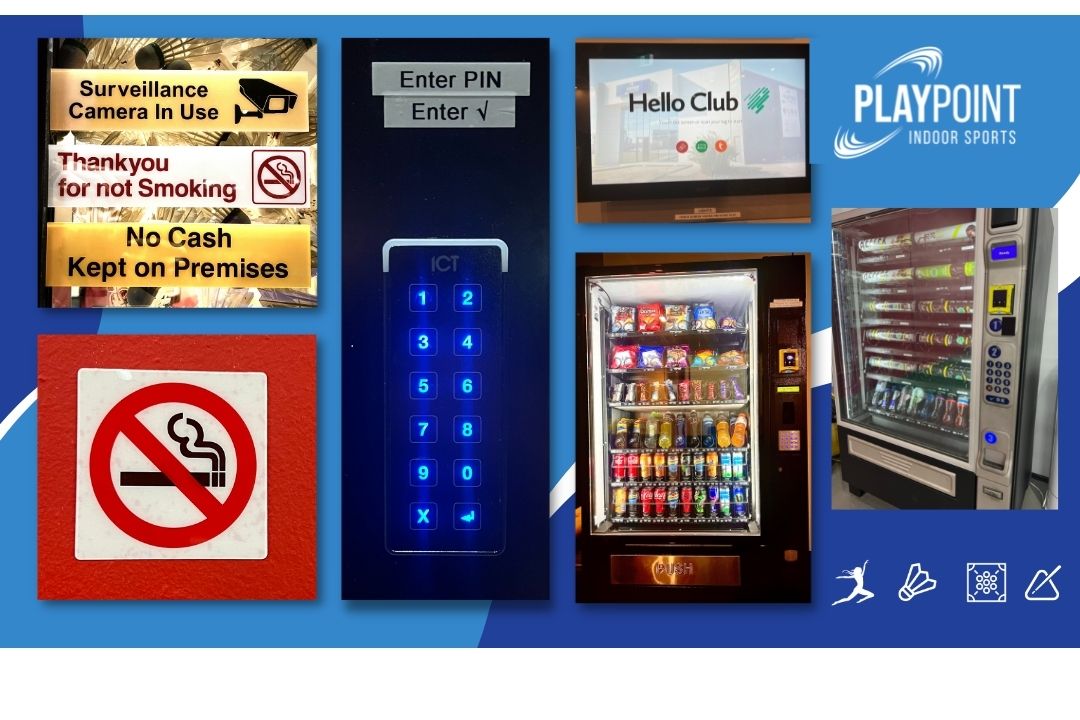 PlayPoint is designed for multiple sports for all ages. Our Promise is to deliver unmatched quality with exceptional playing experience. Our Centre reflects our values of being unique, passionate and inclusive.
PlayPoint is located in a modern building with inviting surroundings, so that patrons can relax, exercise and play at the same time.  Our activities are family focused allowing every member to engage in some sport.
PlayPoint has adopted technology for booking, access and lights management.  Each booking generates a 5 digit pin to allow entry and activate the court or table lights for the booked time, with the lights programmed to auto-switch off once the booked time finishes.  All payments are accepted through a contactless system and no cash is maintained at the facility.
PlayPoint has installed a vending machine for badminton shuttlecocks, that allows contactless  credit card functionality to make a purchase.
PlayPoint does not serve alcohol and reserves the right to restrict alcoholic BYOs.  Power drinks, water, soft drinks and packet snacks are available for purchase on the vending machines.
PlayPoint is continuously monitored by CCTVs – inside and outside – with 15 cameras to facilitate the safety and security of its patrons.
PlayPoint is a No=Smoking facility.
PlayPoint currently is accepting the NSW Discovery and NSW Parents Vouchers issued by Services NSW,
Awesome place with a variety of sports available including pool table, snooker and billiard table. Badminton courts are awesome and I could not believe how many carrom boards are available. I had great time at the place and looking forward to utilising it fully.
One of the best facilities in NSW for badminton. It is 24 hours as well. They have carrom, pool and snooker as well. Very convenient location in 7 hills and plenty of parking. Talk to Sanjeev and he will sort all your problems.
One stop for fun and exercising. Great place to spend quality time with your friends and family. Fantastic set up, lights, Olympic standard courts, plenty parking etc. Working mom like me, can play badminton anytime(24/7). I am really looking forward to utilise all other facilities and classes and continue badminton... keep up the good work.
Well maintained indoor sports centre, I've started few weeks playing Badminton here, courts are clean and have sufficient lighting. Booking a court is also easy through their website.
This place is one of it's own kind, Been there twice to play badminton one of the best experience so far. The owner is super cool. Definitely worth the visit.