Zumba is a fast-paced dance cardio class. It is a combination of Latin, hip-hop, and aerobics moves,
including some squats, lunges, jumps and kicks as well. Basically, it requires a lot of movement.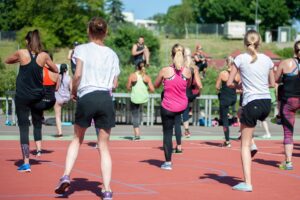 Let us look at a few benefits Zumba can have on you and your body:-
1) Zumba does not feel like a workout regime – Attending a Zumba class feels like attending a
party with friends. It's high energy with enthralling music and packed with fun dance moves.
If you love dancing, then you are sure to love Zumba too. It's fun, it's loud, it's exciting, and is
a great way to exercise.
2) Zumba helps to shed tons of calories – Zumba is a wonderful fitness regime that will help
you to shed tons of calories. Studies estimate you can burn as much as 800 calories in one
class. Even though Zumba is mainly a cardio class, it also incorporates some strength moves.
3) Zumba makes you feel fitter – Zumba combines Latin-style dances like salsa, merengue,
and tango which will include a lot of hip movement. Though it may feel a bit uncomfortable
at first, once you get used to the movements, you are sure to feel fitter and in much
better shape with an increased level of self-confidence.
4) Zumba workout isn't tough at all – If you are new to the Zumba form of exercise, you may
find it difficult and intimidating but it's actually a lot easier than it looks. Most Zumba
routines incorporate the same moves, so once you've done them a few times, you'll get
the hang of it easily. Plus, the more often you come, the better you'll get at it. It is great to
do Zumba as it can help you to lose weight quickly.
5) Zumba helps you to socialize – Zumba sessions can help you to socialize and make new
friends. It's fun to meet and exercise with the same people regularly and dance your way to
a fitter and healthier you.
Zumba is a great way to work out and lose those extra kilos. If you are looking for an indoor sports
center to attend Zumba classes, then do get in touch with PlayPoint, the only 24/7 indoor sports
centre in Australia.